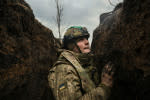 Editor's note: The Kyiv Independent is not revealing the soldiers' surnames or the exact location of their deployment due to security concerns amid the ongoing war. Some military personnel spoke without the authorization of their commanders or a press officer. 
DONETSK OBLAST – Just days before heading back to fight in the Battle of Bakhmut, a Ukrainian soldier Volodymyr, 54, said he felt ill-prepared.
"When they drive us to Bakhmut, I already know I'm being sent to death," Volodymyr told the Kyiv Independent during his brief stay in Kramatorsk, a city in Donetsk Oblast some 25 kilometers west of the front line.
Volodymyr, an infantryman from the 93rd Mechanized Brigade, said he struggled to eat after fighting in Bakhmut for months. He looked shaken as he talked.
For two months, Volodymyr's unit was tasked with guarding Bakhmut against small Russian assault groups creeping into the city. The brigade was constantly under mortar fire as soldiers were outdoors where shrapnels could wound or kill them at any moment.
"(The Russians) keep firing at us, but we don't have artillery – so we have nothing to attack them back with," Volodymyr said. "I don't know if I will return or not. We are just getting killed."
Ukrainian infantrymen interviewed by the Kyiv Independent described the fighting in Bakhmut as a desperate survival challenge against Russia's "infinite" stocks of artillery munitions and manpower. With just their machine guns and rifles, they say they braced relentless Russian mortar and artillery attacks until their hideout was eventually destroyed.
Volodymyr is haunted by the thoughts of his comrades killed in Bakhmut. He recalls a 29-year-old comrade whom he found lying dead after shrapnel hit the young man's head at a position.
"I knew he was dead, but I just kept wrapping his head (with bandages)," Volodymyr said.
__________________________________________________________________________________________________________________________________________
Note from the author:
Hi, this is Asami Terajima, the author of this article.
Thank you for reading my story till the end. I spent a few weeks collecting testimonies from Ukrainian soldiers in the eastern Donetsk Oblast to illustrate the battle for Bakhmut through their eyes. Some of them have said they try not to get attached to other comrades because otherwise, it gets too painful – but they admitted it wasn't really possible because they spend 24/7 together. To help the Kyiv Independent tell more stories of Ukrainian soldiers and continue reporting on the ground, please consider supporting us by becoming our patron.