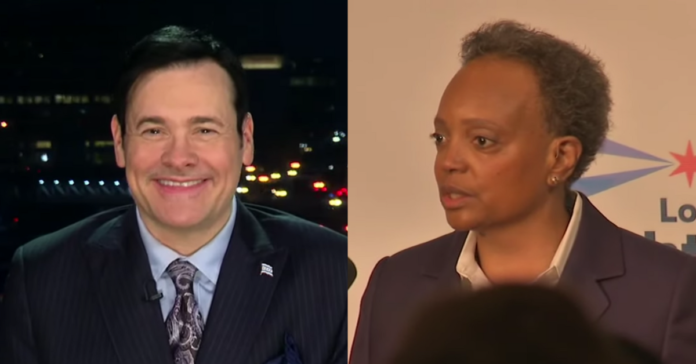 Failed Chicago mayor Lori Lightfoot, when she was losing her re-election, revoked the press credentials of a pesky Chicago reporter. In the past, the media would have come together to hold Lightfoot to account. But today the media is basically PR for the Dem Party so no one said a word.
But William J. Kelly, the man who Lightfoot shut out, got his revenge on one-term mayor Lightfoot at her last city council meeting. He won a lottery to have three minutes to ask a question of Lightfoot and the council but instead took his revenge and set Lori scurrying back to Ohio.  (See Video Below)
Kelly said: "You shut down the businesses. You did the one thing I thought could never happen. As somebody who was born and raised on the south side of Chicago, I never thought in my life that I would ever see the city of Chicago brought down so low.
"I hope that after today's city council meeting, you will pack your suitcase and get the hell out of my city."
According to The Cook County Record:
A federal judge has tossed a lawsuit in which journalist William Kelly sued Chicago Mayor Lori Lightfoot, accusing her of using a false pretense to illegally revoke his press credentials rather than face his questions.
In an opinion issued Oct. 27, Judge Sharon Coleman dismissed the complaint, granting a win to Lightfoot and Police Superintendent David Brown, who argued Kelly's City Hall ban was a result of his conduct, including a skirmish with the mayor's security detail.
Kelly, who hosts the Citizen Kelly radio show, was the subject of an Aug. 5 police report detailing the events of a July 19 city press conference at which police said Kelly "became irate and aggressive" and yelled at Lightfoot.

"The report further states that Kelly followed Mayor Lightfoot's security detail and the mayor while he continued to yell and insert himself between the security officers to get closer to the mayor," Coleman wrote.
"The report also stated that Kelly 'deliberately bumped' one of the officers while he attempted to push past the officer. Kelly then breached the safe zone around the mayor."
According to court documents, Brown revoked Kelly's credentials after the altercation. Kelly insisted the revocation was intended "to prevent him from asking about the mayor's multiple failures and because his embarrassing questions hurt the mayor's chances of being re-elected next year," Coleman wrote.
On Sept. 2, eight days after Kelly filed his lawsuit, Coleman denied his motion for a temporary restraining order, finding he failed to establish his claims were likely to succeed.
Regarding Kelly's First Amendment freedom of the press claim, Coleman explained a mayoral press conference, unlike a town square or a school board meeting, qualifies as a nonpublic forum because the government establishes access based on selective criteria.