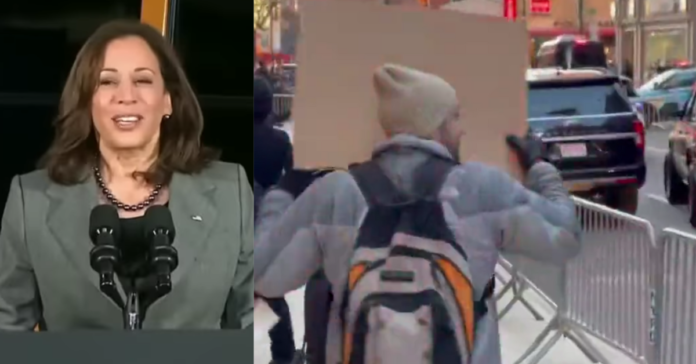 Vice President Kamala Harris went to New York City but was met with a rude welcome by a group of hecklers. Harris was in the liberal enclave for an appearance on CBS' The Late Show with Stephen Colbert. (See Video Below)
The hecklers had First Amendment signs and yelled lock her up over many of the administration's transgressions. After the GOP blew the whistle on the federal government abusing the First Amendment something needs to be done.
Kamala is probably kept far away from anything of importance so she should be in the clear but others in that administration need to answer some hard questions.
According to the Post Millennial:
"NJEG Media told The Post Millennial that the protesters were against Biden, Democrats, vaccine mandates and pressure, the great reset, and the war in Ukraine. 
"They stood by the side door waiting for her to come out."

Colbert asked Kamala:
"One of the themes of the show is that her character, Selina Meyer, is frustrated by the sometimes vague duties of the role. 
"It's a high constitutional office but does not describe what you're supposed to be doing. Does that ring true? Like, what's the actual role on a daily basis as you have found it?" 
Kamala said:
"Well, I have the great privilege of serving with Joe Biden, who is the President of the United States… and was vice president."
"Does he understand what it's like to be vice president?" Colbert asked. 
Kamala said: "He does, he does. He really is a true partner and he understands that job. And remember, we came in during the height of the pandemic. 
"And so much of the work was about okay, we've got to cover a lot of bases and let's figure out between us how we can do it. 
"But he's an extraordinary leader and I wish people could see what I see because there's only one person who sits behind that Resolute Desk. 
"And the decisions that person has to make are the decisions that nobody else in the country can make. And he's an extraordinary leader. He really is."
"That's an excellent answer and, uh, the question was what's the job of the vice president," Colbert shot back.
Breaking: VP Kamala Harris gets heckled by protesters while leaving a taping of The Late Show with Stephen Colbert. Protesters chase the motorcade. pic.twitter.com/RHB11esETm

— NJEG Media (@NJEGmedia) March 15, 2023
Earlier today while waiting for Kamala Harris outside The Late Show with Stephen Colbert, protesters chant "lock her up!" One sign reads "Joe and Kamala fight in Ukraine yourselves" pic.twitter.com/ch1A95EJWx

— NJEG Media (@NJEGmedia) March 16, 2023